Despite hating hills (and often hating running in general!) I was talked into a 5 mile race up and over Roseberry Topping. Having lived in Teesside all my life, I am not a stranger to this landmark and had most recently climbed to the summit with the children.
The evening was beautiful – sunshine but not too hot and I was looking forward to taking in the view from the top, though less keen to actually get up there! I met two friends in the car park – runners from Elvet Striders who seem to find this kind of thing fun!
Soon we were at the start line which was on the rough path which leads from the car park. A gentleman positioned himself at the back and announced he was the back marker – I went and introduced myself as I suspected we were to see a lot of each other!
The race started with an uphill incline – within a few hundred metres several people were already walking! However, once through the gate at the top of the path it levelled off and even had some downhills….. but of course, what goes down must go, erm, up! The route was beautiful and took me through places I had never seen before! Previously I had gone straight up and straight down so the woods were a revelation to me!
Soon it became clear that we were heading up  and I had to resort to walking several times. Up….up… up we went, then I glanced to the right and there, in the distance, was Roseberry Topping. Wait…. what??? I have to admit to feeling a bit defeated at this point! What on earth was I climbing if not Roseberry Topping? And how do we get up there? Still I pushed on, battling for last place by this point which I soon claimed as my own. We finally reached the summit of whatever this mound was then were greeted with a lovely downhill stretch which I would have enjoyed more had I not been facing the task of scaling the back of Roseberry Topping!
We came across past a folly then the real uphill work started again. I was pleading with my legs by this point as I started to grind to a halt and watched the people ahead of me get further and further away. Finally a voice called out "come on mum, you can do it" and I looked up to see my younger son peering over the edge at me. Matthew was perched on the top with his camera ready to capture each runner as they made it to the top and I was less than delighted with many of the ones of me!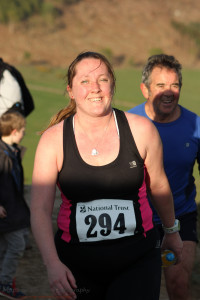 Oliver, my younger son who had given himself the task of mini-marshal in the absence of any marshals on the summit, directed me to touch the trig-point (or white thing as I prefer to call it!) then it was onto a long downhill. My pleasure at this was short-lived when I saw the potentially ankle-twisting stone which lined the path and I didn't feel confident enough to do it at any great speed. Eventually though, the terrain cleared a bit for me to pick up the pace and I soon caught back up to the runners ahead of me….. but only until we hit yet another hard uphill!
This one is known as Little Roseberry and as the name suggests, it isn't as high as the Topping itself. A marshal at the top was pleased to be relieved of his post as the back-runner and I passed him then, at last, I was told all the climbing was over and it was literally "all downhill from here!"

Having down several trails now, I am getting more confidence at letting myself go on the downhill stretches so once again I was able to catch up with the people ahead of me but didn't quite have enough in the tank or the space on the path to get past them. Finally, the last stretch was ahead of us and my stubbornness and pride kicked in giving me the boost I needed to pull back two places on the final stretch. I felt a little guilty about this but at the end of the day, it is a race!
As I said at the start, I hate hills so I went into it knowing I was going to find it hard. However, it was a beautiful, varied route and I would probably do it again. My final time was 1:16:29 – certainly not my fastest 5 miles!
~ Tracey