Fairfield Harriers is based in Stockton on Tees – below are some of our favourite or frequent routes.
Select a distance or browse all routes below:
(Click on a map to view a larger version)
5km
Starting at Upsall Grove shops, this is a Wednesday night regular: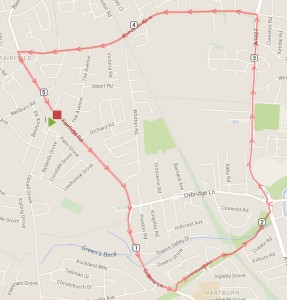 The riverside offers a traffic free option which is lovely on a nice day – starting and finishing in front of Riverview Cafe, this is a tweak of the Tees Barrage parkrun route which avoids the steps of the Millenium Bridge:

6.5km
If you are looking for a bit further than a 5km, this is a pleasant route which takes you through Newham Grange Park. There are some short hills which are good to introduce inclines to your running: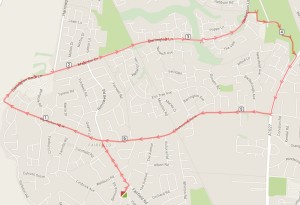 The following route takes you off-road along the old railway line to Wynyard Woodland Park (or as us oldies know it, Castle Eden Walkway). Please note, the route shown as 6.5km (From Upsall Grove Shops to the Platform Cafe at Wynyard Woodland Park) is only one way, so a round trip will be 13km – or you can continue up the walkway to add on as much extra distance as you want.
Be aware that around the 5km mark, the path forks giving you a choice or straight on or right – we would advise taking the right path as both take you down an incline but the 'straight on' option is very steep!
10km
The Riverside is a very flexible area – the number of bridges and waterways means you can adapt the routes to suit your needs. This is a mostly-flat 10km: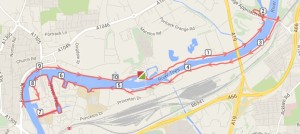 …. more to follow!